What a crock of crap that is.... Biglou is not a member of the all important "Hollywood Foreign Press", and Biglou doesn't get to vote for the Golden Globe Awards.. The Golden Globe Awards try to think they are all that. They stand and cheer and hoot an holler like they are all so important. All those Hollywood Pompouses .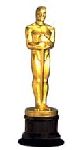 Everyone knows the Golden Globe don't mean nothing.. Everyone knows the Oscars are the one that counts..Golden Globes don't mean Squat.. They put MUSICALS and COMEDIES in the same category... What is that???? Like Musicals and comedies are the same thing...
Why don't they just put sreenwriter, and oh I don't know, music writers in the same category.. That makes about the same sense....
Plus Biglou is sick of that Ricky Gervais...Another reason not to like the Golden Globes. People Choice Awards. 6 to one, half dozen the other.. What the difference...
Social Network just got Best Picture.. Biglou guarantees it won't win the Oscar....if Social Network is best movie, then what is the worst???? Probably the Green Hornet..... Green Hornet was bad.. Real Bad... Nothing in the Green Hornet is gonna get Oscar nomination... Nothing in Green Hornet gonna get MTV or VHI consideration... It was BAD...